Relief is Just a Few Movements Away!
Author: Julie Donnelly, LMT – The Pain Relief Expert
Editor: Dr. Steve Chaney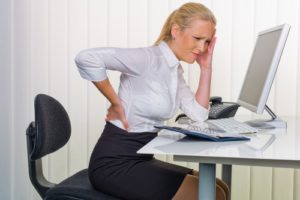 I'm on a long business trip, speaking and teaching in Tennessee and New York, and the drive from Sarasota, FL meant many hours of driving over several days.  One of my stops was to visit with Suzanne and Dr. Steve Chaney at their home in North Carolina.  It was that long drive that became the inspiration for this blog.
After all those hours of driving, my hip was really sore. It was painful to stand up. While talking to Suzanne and Dr. Chaney I was using my elbow to work on the sore area, and when we were discussing the blog for this month it only made sense to share this technique with you.  So, Dr. Chaney took pictures and I sat at his computer to write.  I thought others may want to how to relieve hip pain after sitting or driving for long periods.
What Causes Anterior Hip Pain?
As I've mentioned in posts in the past, sitting is the #1 cause of low back pain, and it also causes anterior hip pain (pain localized towards the front of the hip) because the muscles (psoas and iliacus) pass through the hip and insert into the tendons that then insert into the top of the thigh bone.  When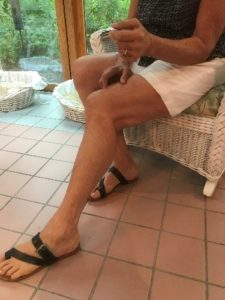 you try to stand up, the tight muscle tendons will pull on your thigh bone.  The other thing that happens is the point where the muscle merges into the tendon will be very tight and tender to touch. You aren't having pain at your hip or thigh bone, but at the muscular point where the muscle and tendon merge.
It's a bit confusing to describe, but you'll find it if you sit down and put your fingers onto the tip of your pelvis, then just slide your fingers down toward your thigh and out about 2". The point is right along the crease where your leg meets your trunk.
The muscle you are treating is the Rectus Femoris, where it merges from the tendon into the muscle fibers.  Follow this link, thigh muscle, to see the muscle and it will be a bit easier to visualize.
You need to be pressing deeply into the muscle, like you're trying to press the bone and the muscle just happens to be in the way.  Move your fingers around a bit and you'll find it.
Easy Treatment for Anterior Hip Pain After Sitting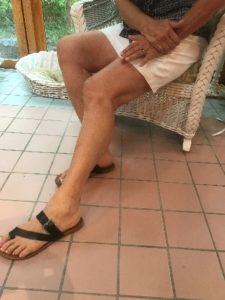 Here is an easy treatment for hip pain after sitting you can administer yourself.  First, sit as I am, with your leg out and slightly turned.
Find the tender point with your fingers and then put your elbow into it as shown.
It's important to have your arm opened so the point of your elbow is on top of the spasm.  It's a bit tricky, but if you move about a bit you'll come on to it, and it will hurt.  Keep the pressure so it's tolerable, not excruciating.
After you have worked on this point for a few minutes you can move to the second part of the treatment.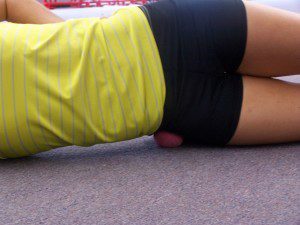 Put the heel of your "same-side" hand onto your thigh as close to the spasm as you can get.  Lift up your fingers so the pressure is only on the heel of your hand.  You can use your opposite hand to help give more pressure.
Press down hard and deeply slide down the muscle, going toward your knee.  You can also kneed it like you would kneed bread dough, really forcing the muscle fibers to relax.
I'm putting in a picture from a previous blog to explain how you can also treat this point of your rectus femoris by using a ball on the floor.
As shown in this picture, lie on the floor with the ball on your hip muscle, and then slightly turn your body toward the floor so the ball rolls toward the front of your body. You may need to move the ball down an inch or so to get to your Rectus Femoris.
When you feel the pain, you're on the muscle.  Just stay there for a minute or so, and if you want you can move so the ball goes along the muscle fibers all the way to your knee.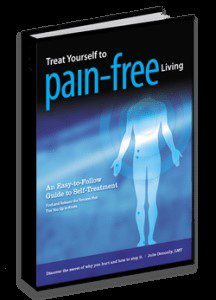 It may be a challenge to find this point, but it's well-worth the effort!
In my book, Treat Yourself to Pain Free Living, I teach how to treat all the muscles that cause pain from your head to your feet.
Wishing you well,
Julie Donnelly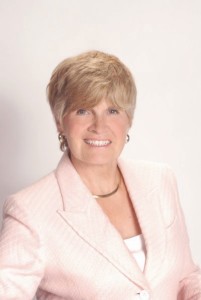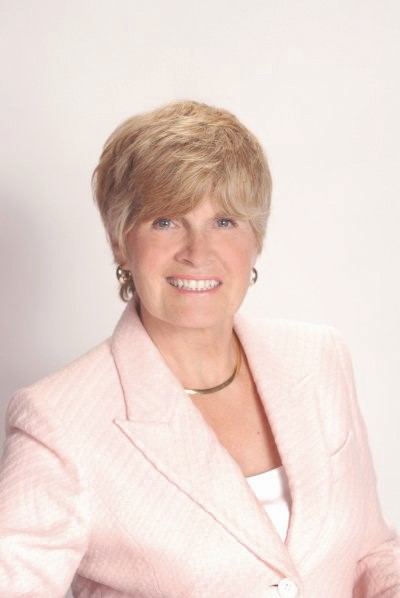 About The Author
Julie Donnelly is a Deep Muscle Massage Therapist with 20 years of experience specializing in the treatment of chronic joint pain and sports injuries. She has worked extensively with elite athletes and patients who have been unsuccessful at finding relief through the more conventional therapies.
She has been widely published, both on – and off – line, in magazines, newsletters, and newspapers around the country. She is also often chosen to speak at national conventions, medical schools, and health facilities nationwide.
These statements have not been evaluated by the Food and Drug Administration. This information is not intended to diagnose, treat, cure or prevent any disease.