Your Sleeping Position May Be Causing Your Headaches!
Author: Julie Donnelly, LMT – The Pain Relief Expert
Editor: Dr. Steve Chaney
Can sleeping position be one of the causes of headaches?  
A Sleeping position that has your head tilted puts pressure on your spinal cord and will cause headaches. I've seen it happen hundreds of times, and the reasoning is so logical it's easy to understand.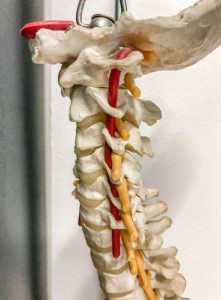 Your spinal cord runs from your brain, through each of your vertebrae, down your arms and legs. Nerves pass out of the vertebrae and go to every cell in your body, including each of your organs. When you are sleeping it is important to keep your head, neck, and spine in a horizontal plane so you aren't straining the muscles that insert into your vertebrae.
The graphic above is a close-up of your skull and the cervical (neck) vertebrae. Your nerves are shown in yellow, and your artery is shown in red.  Consider what happens if you hold your head to one side for hours. You can notice that the nerves and artery will likely be press upon. Also, since your spinal cord comes down the inside of the vertebrae, it will also be impinged.
In 2004 the Archives of Internal Medicine published an article stating that 1 out of 13 people have morning headaches. It's interesting to note that the article never mentions the spinal cord being impinged by the vertebrae. That's a major oversight!
Muscles merge into tendons, and the tendons insert into the bone.  As you stayed in the tilted position for hours, the muscles actually shortened to the new length.  Then you try to turn over, but the short muscles are holding your cervical vertebrae tightly, and they can't lengthen.
The weight of your head pulls on the vertebrae, putting even more pressure on your spinal cord and nerves.  Plus, the tight muscles are pulling on the bones, causing pain on the bone.
Your Pillow is Involved in Your Sleeping Position and the Causes of  Headaches

The analogy I always use is; just as pulling your hair hurts your scalp, the muscle pulling on the tendons hurts the bone where it inserts.  In this case it is your neck muscles putting a strain on your cervical bones.  For example, if you sleep on your left side and your pillow is too thick, your head will be tilted up toward the ceiling. This position tightens the muscles on the right side of your neck.

Dozing off while sitting in a car waiting for someone to arrive, or while working for hours at your desk can also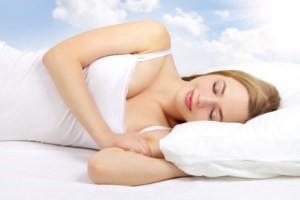 cause headaches. The pictures above show a strain on the neck when you fall asleep without any support on your neck. Both of these people will wake up with a headache, and with stiffness in their neck.
The best sleeping position to prevent headaches is to have your pillow adjusted so your head, neck, and spine are in a horizontal line. Play with your pillows, putting two thin pillows into one case if necessary. If your pillow is too thick try to open up a corner and pull out some of the stuffing.
Sleeping on Your Back & Stomach
If you sleep on your back and have your head on the mattress, your spine is straight. All you need is a little neck pillow for support, and a pillow under your knees.
Stomach sleeping is the worst sleeping position for not only headaches, but so many other aches and pains. It's a tough habit to break, but it can be done. This sleeping position deserves its own blog, which I will do in the future.
Treating the Muscles That Cause Headaches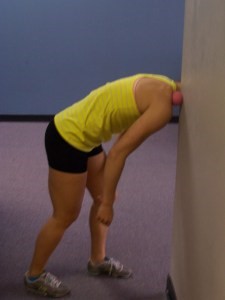 All of the muscles that originate or insert into your cervical vertebrae, and many that insert into your shoulder and upper back, need to be treated.  The treatments are all taught in Treat Yourself to Pain Free Living, in the neck and shoulder chapters.  Here is one treatment that will help you get relief.
Take either a tennis ball or the Perfect Ball (which really is Perfect because it has a solid center and soft outside) and press into your shoulder as shown.  You are treating a muscle called Levator Scapulae which pulls your cervical vertebrae out of alignment when it is tight.
Hold the press for about 30 seconds, release, and then press again.
Your pillow is a key to neck pain and headaches caused by your sleeping position.  It's worth the time and energy to investigate how you sleep and correct your pillow.  I believe this blog will help you find the solution and will insure you have restful sleep each night.
Wishing you well,
Julie Donnelly
About The Author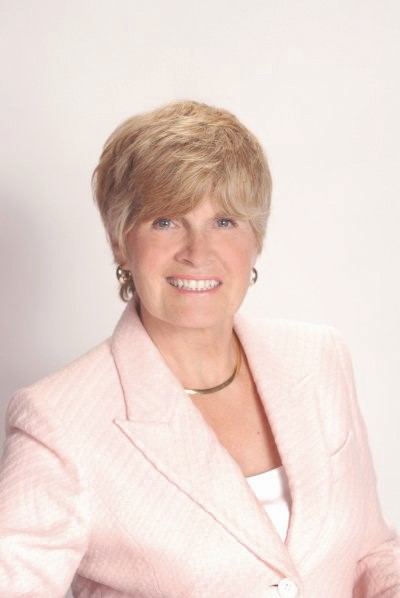 Julie Donnelly is a Deep Muscle Massage Therapist with 20 years of experience specializing in the treatment of chronic joint pain and sports injuries. She has worked extensively with elite athletes and patients who have been unsuccessful at finding relief through the more conventional therapies.
She has been widely published, both on – and off – line, in magazines, newsletters, and newspapers around the country. She is also often chosen to speak at national conventions, medical schools, and health facilities nationwide.
These statements have not been evaluated by the Food and Drug Administration. This information is not intended to diagnose, treat, cure or prevent any disease.