Author: Julie Donnelly, LMT –The Pain Relief Expert
Editor: Dr. Steve Chaney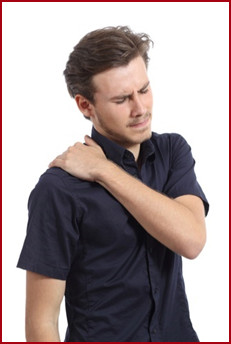 Shoulder joint pain was preventing a father from throwing a baseball to his son and he was very distressed.  He needed should joint pain relief in the worst way.  He was complaining to a friend of his who is a client of mine. Even though he had been recommended to go for surgery, his friend convinced him to give muscle therapy a chance. So yesterday "Frank" came in to see me.
He demonstrated throwing a ball, but he could barely lift his arm, and he definitely couldn't bring it back. He said that his time with his son is precious to him, and that their favorite pastime is throwing a baseball.  If I could just help him do that, he would be happy.
Why Muscles Cause Shoulder Joint Pain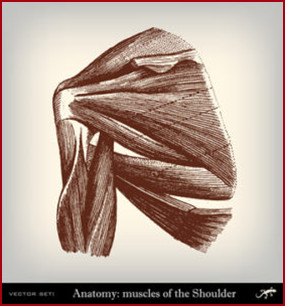 Your shoulder has more muscle attachments than any other joint in your body.  A muscle pulls in only one direction, muscles never push. When you consider all the movements you can make with your shoulder and arm, you can see why there are so many muscles involved.
The important fact is when a muscle is shortened from spasms, it will cause pain at its insertion point on the bone at the shoulder joint.
The reason is evident when you consider an analogy I frequently use to describe joint pain. If you pull your hair at the end, it hurts at your scalp.  However, you don't need to massage your scalp, you don't need to take aspirin for the headache, and you definitely don't need brain surgery!  You just need to let go of your hair!
The exact same thing is true to stop your shoulder joint pain. You just need to let go of the tight muscles that insert into your shoulder.
The Muscles That Cause Shoulder Joint Pain
Perhaps you've heard of the rotator cuff muscles: supraspinatus, infraspinatus, teres minor, and subscapularis. However, my experience has proven that there are a lot of other muscles that aren't considered shoulder muscles, but that will cause shoulder joint pain. Those muscles are your biceps and triceps, your levator scapulae, and your latissimus dorsi (among others).
While not rotator cuff muscles, your biceps and triceps both originate deep within your shoulder joint. The other two muscles will move your shoulder blade (scapula). When they are in spasm, which shortens the muscle fibers, it will cause a strain to be placed on the muscle tendon, which will then cause a strain, and pain, on your shoulder joint.
How To Release Shoulder Joint Pain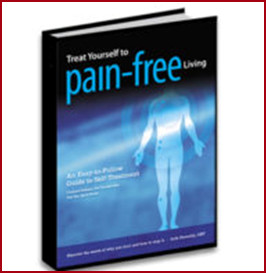 There are so many muscles involved in shoulder joint pain that I couldn't show all of them here, that's why I wrote Treat Yourself to Pain-Free Living.
However, I do want to show you how to do one treatment for your infraspinatus muscle.
But first, back to "Frank."  I treated each of the muscles mentioned, and then using Treat Yourself to Pain-Free Living, I showed him how to treat each of the muscles of his shoulder.  He was thrilled!  He could easily, and painlessly, throw a baseball.  In fact, he went outside and tried it just to make sure.
The key is self-treatment.  Muscles will again shorten up until you train them to be their normal, longer, length. You can't go to a therapist as often as necessary to make the muscles return to their proper length. However, you can treat yourself every day! That's how you really stay flexible and pain-free — frequent self-treatment.
An Easy Treatment For Shoulder Joint Pain
The following pictures are from Treat Yourself to Pain-Free Living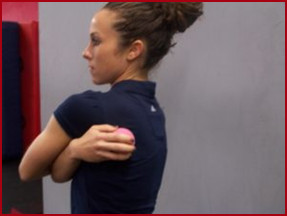 Step 1: To treat your left infraspinatus, put the Perfect Ball in your right hand and bring it under your arm, going back as far as you can so you are on top of your infraspinatus muscle.
Step 2:  Lean into a wall.  Find the "hot spot" (the spasm).  You'll know you're on it because it will hurt.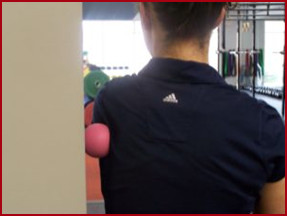 Step 3:  Stay still for 30-60 seconds, then move a little bit to roll the ball back and forth on the muscle.
Treat Yourself to Pain-Free Living will explain this further, and will give you pictures and descriptions of how to self-treat the other muscles that cause shoulder joint pain.
It just takes a little bit of direction and effort to learn how to self-treat. But, I've seen so many times that you CAN stop shoulder joint pain!
Wishing you well,
Julie Donnelly
About The Author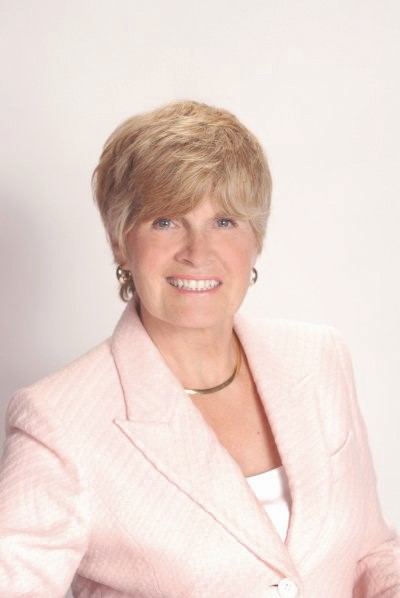 Julie Donnelly is a Deep Muscle Massage Therapist with 20 years of experience specializing in the treatment of chronic joint pain and sports injuries. She has worked extensively with elite athletes and patients who have been unsuccessful at finding relief through the more conventional therapies.
She has been widely published, both on – and off – line, in magazines, newsletters, and newspapers around the country. She is also often chosen to speak at national conventions, medical schools, and health facilities nationwide.
These statements have not been evaluated by the Food and Drug Administration. This information is not intended to diagnose, treat, cure or prevent any disease.