Shermer's Neck Is An Ultra-Cyclist's Nightmare
Author: Julie Donnelly, LMT – The Pain Relief Expert
Editor: Dr. Steve Chaney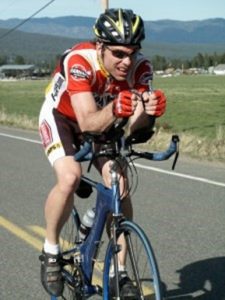 Shermer's Neck is a condition where the muscles of the back of your neck become so tight that they lose the ability to hold your head up. It is a condition most frequently associated with ultracycling.
Do you love to cycle?  Perhaps you're an ultracyclist and ride for many hours every week.  If you are, you may already know about Shermer's Neck.
As you are well-aware, an ultracyclist leans forward.  This is called the "aerodynamic position." When you do that, you are slicing through the wind, and you aren't losing speed when the wind hits your chest. However, you need to hold your head up to see where you are going and maintain that position for several hours. That is what causes Shermer's Neck.
Shermer's Neck And The Non-Athlete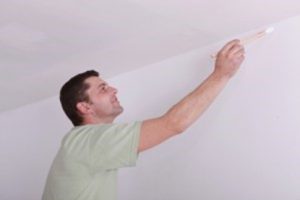 You don't have to be an ultracyclist to suffer from Shermer's Neck. Do you do anything that has you look up for hours, such as being a house painter? Even something as simple as having your computer screen too high can force you to have your head tilted up for long periods of time while working.
If so, Shermer's Neck can still affect you, and seriously impact your life. Fortunately, non-athletes don't usually have as severe a problem as the ultracyclists.
Why Does Looking Up Cause Shermer's Neck?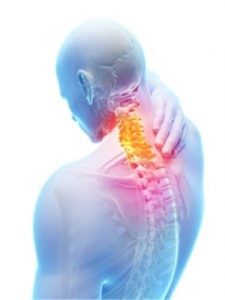 Your posterior neck muscles primarily originate at the middle of your back, along your spine. They go up your back and neck, and insert into either your cervical spine, or the bottom of your skull. When these muscles contract, they pull your head back.  When the muscles of the posterior neck contract, if you are standing, you'll be looking at the ceiling. If you're a cyclist, your posterior neck muscles contract in order for you to look forward.
How To Treat The Muscles That Cause Shermer's Neck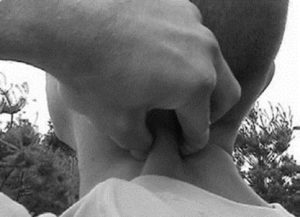 The primary muscles that cause Shermer's Neck are:
To treat the muscles that cause a repetitive strain injury in your neck, tilt your head back and pinch the muscle that is right next to your spine.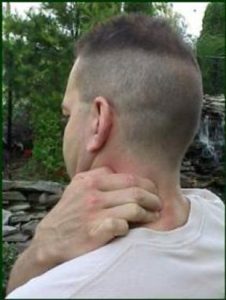 Next, press the three middle fingers of your opposite hand deeply into the muscle fibers, going from the base of your scalp to as far as you can reach down the center of your back, right alongside your spinal column.
While pressing deeply, slowly lower your chin toward your chest so you are stretching the muscle fibers.  Don't let your hand slide on your neck or you will miss the stretch.
Do both self-treatments on both sides of your neck.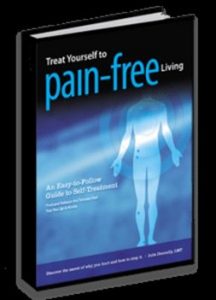 You can find the full treatments for your entire neck and upper back by going to my book, Treat Yourself to Pain-Free Living . This book has treatments for your entire body, from your head to your feet.  YOU are your own Best Therapist!  Stop pain quickly and easily with self-treatments you can do anytime, anyplace.  Get relief from Shermer's Neck pain by following the steps above.
Wishing you well,
Julie Donnelly
About The Author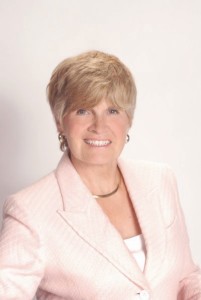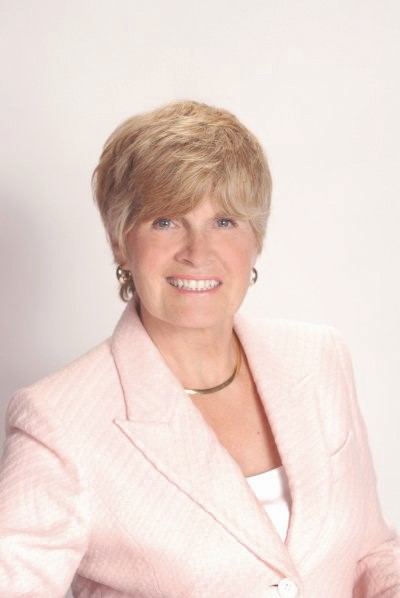 Julie Donnelly is a Deep Muscle Massage Therapist with 20 years of experience specializing in the treatment of chronic joint pain and sports injuries. She has worked extensively with elite athletes and patients who have been unsuccessful at finding relief through the more conventional therapies.
She has been widely published, both on – and off – line, in magazines, newsletters, and newspapers around the country. She is also often chosen to speak at national conventions, medical schools, and health facilities nationwide.
These statements have not been evaluated by the Food and Drug Administration. This information is not intended to diagnose, treat, cure or prevent any disease.