Relief From Eye Pain 
Author: Julie Donnelly, LMT –The Pain Relief Expert
Editor: Dr. Steve Chaney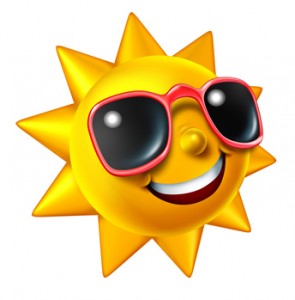 It's been hot this summer! High temperature records were broken not just in the USA, but all over the world!  The funny thing is it was sometimes hotter up north than down here in Florida.
A snowbird client came in several weeks ago and told me they came back to Florida because they don't have central air in their house up north (never needed it before).  That's pretty incredible.
For those of us who are old enough to remember the days before air conditioning, we are even more grateful for air conditioning.
I remember being pregnant with my son in 1967, when we were living in San Antonio, Texas.  Most people didn't have air conditioning yet, and we certainly didn't.
I came to realize why Southerners talk so slow (remember, I'm a New Yorker).  It was so hot we just didn't talk at all. It took too much effort!
Fortunately, this time of year seems to pass quickly, and we'll be getting back into cooler weather before we know it.  At least, that's what I'm telling myself.
Repetitive Motion And Eye Pain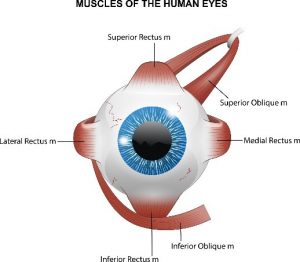 This week I had a client come to the office with a situation that is pretty rare.  He described his pain as on his eyeball, which then referred to the entire top half of his skull.  It was like drawing a line that went under his eyes, through his ears, and around his head.  It was definitely a headache but concentrated on his eyes.
This client works in an industry that has the computer screen changing frequently and he's needing to locate information on the new screen quickly.  He has experienced eye strain before, but other times just having the weekend off has resolved the problem.  This time the pain didn't go away.
We don't ever think about the muscles that move our eyes, but they can get repetitively strained just like any other muscle in the body.  This especially happens if you are watching something that has your eye moving back and forth rapidly, like a game on your computer or phone.
The muscles that are most prone to a repetitive strain injury are the ones on the top of the eye and on the outside of the eye.  I'm not an eye doctor so I can't explain why these two muscles cause more problems than the others, but my experience has shown this to be the truth.
Relief From Eye Pain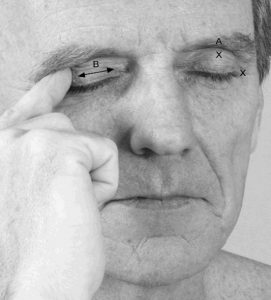 The treatment is simple, but you need to do it cautiously.  If you wear contacts, you'll need to remove them. The pressure is VERY light.
Put your fingertip directly onto your eyeball and press down GENTLY.
Slide your finger from the top of your eyeball to the outside of your eyeball.
If you find a point where it is tender, that's the spasm that is putting a strain on your eyeball.  Just leave your fingertip on that point for 30 seconds. You may even get a light show while doing this, with different shapes and colors.
You'll find that this simple treatment will soothe tired eyes at the end of the day.  But remember, the pressure needs to be light and gentle.
Wishing you well,
Julie Donnelly 
These statements have not been evaluated by the Food and Drug Administration. This information is not intended to diagnose, treat, cure or prevent any disease.