What Causes Stress Headaches?
Stress is an unfortunate byproduct of the festivities of the holiday season. The holidays are supposed to be fun. But you are adding all the festive gatherings, Christmas shopping, and family drama to an already crowded schedule.
Then the New Year comes. This should be a time you can relax. But no, the holiday bills start rolling in, and you have the stress of figuring out how to pay them. Then, there are New Year's resolutions. You know you should be making resolutions, but you also know you've never successfully kept them in the past. Now, that is real stress.
That stress often shows up as tight muscles and muscle spasms that can cause headache pain. If you already have one of my books, especially either Treat Yourself to Pain-Free Living, or The Pain-Free Athlete, you have the tools necessary to get relief.  You can look at the colorful charts and find the area where you are feeling pain or stiffness. Then look for the muscle name that is in the same color as the shaded area of your discomfort. Then, follow the arrow and it will bring you directly to the spasm(s) that cause the pain. The figures above show some of the muscles that can cause headache pain when stress causes them to get tight and spasm.
Relief From Stress Headaches
As you see in the charts above there are multiple places where spasms will cause headaches.  Actually, there are a lot more than this, but that's why I wrote my "Pain-Free Living" book. It's just too much for a newsletter.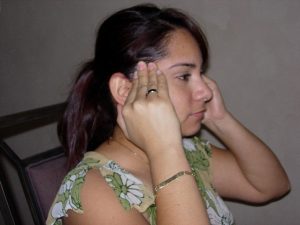 Each of the spasms noted in these two charts can be treated by applying direct pressure onto the spasm and then holding it for 15-30 seconds.  Use as much pressure as you can, but it must always be in the tolerable range, this is NOT a "no pain-no gain" situation.  It is going to hurt because you are forcing toxins out of the muscle fibers, and the toxin is an acid (from lactic acid) so it burns. However, you'll find that as you continue holding the pressure it will lessen.
After 30 seconds, keep your fingers in the same place but take off the pressure. Wait for 5 seconds and then re-apply the pressure.  It won't hurt as much this time because blood has filled the void and it's already starting to heal the muscle.
Keep doing this until you don't feel pain anymore, and then look for another point.  I call these points "hot spots" because that's exactly what they remind me of.
Feel around your head, your neck, and your shoulders and apply pressure on each painful point.  You'll be pleased when you feel the results! If it's stress related, your headache pain will be gone.