A Simple Self-Treatment For The Infraspinatus Muscle
Author: Julie Donnelly, LMT – The Pain Relief Expert
Editor: Dr. Steve Chaney
This summer has been HOT! HOT! HOT!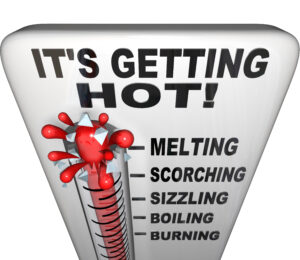 High temperature records were broken not just in the USA, but all over the world!  The funny thing is it was sometimes hotter up north than down here in Florida.  A snowbird client came in several weeks ago and told me they came back to Florida because they don't have central air in their house up north (never needed it before).  That's pretty incredible.
Now, I won't say it's cool outside, but September is not quite as hot as the summer months.  Which brings me to my treatment of the month – shoulder pain.
With it so hot I believe that a lot of people are getting relief be being in a pool, or a lake, or the ocean.  People are enjoying swimming, and if you are swimming a lot, you could easily get shoulder pain. There is a muscle called the Infraspinatus that is a key muscle for swimmers, so let's chat about it.
A Swimmer's Nemesis And Power – The Infraspinatus Muscle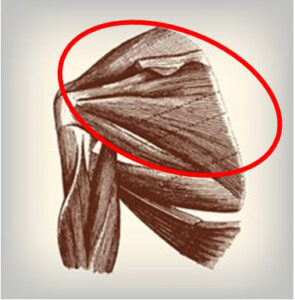 This is what the back of your left shoulder looks like if you took off your skin – fascinating!
There are 16 muscles that all insert into your shoulder, each pulling your arm in a different direction.  Each is important and you use them all every day. But we won't go into all of them this month, we're just looking at the large muscle inside the red circle.  (I'm not an artist so saying "circle" is just using creative license – LOL)
This is the Infraspinatus, which originates on the surface of your shoulder blade (the scapula). It inserts into the tip of your arm bone (the humerus), and when it contracts it pulls your arm back.
Think of taking a tennis serve, or doing a backstroke in the pool, and you can visualize the movement this muscle makes.
How A Muscle Works To Move A Joint
Did you ever play "tug of war" with a stick and rope when you were young?  Basically, that's how muscles work together to move our joints.  When the side that is on the right is pulling on the rope, the stick moves to the right. The only way the stick moves in the opposite direction, in this analogy it moves toward the left, is the right side needs to stop pulling and the left side starts to pull. When that happens, the stick moves toward the left.
This is exactly what happens in our body when we want to move a joint. Two muscles insert into a bone that is at the joint.  One muscle (let's say the infraspinatus) pulls on the insertion point at the tip of the shoulder on your arm bone (humerus), and your arm moves back.  A muscle in the front of your shoulder/chest (pectoralis major) needs to release for your arm to move in that direction.
Then, when you want to bring your arm forward, the pectoralis major contracts and pulls on your humerus, and the infraspinatus must release tension so your arm can move.  It's pretty simple, and it's exactly what happens with every joint in your body.
In my books, Treat Yourself to Pain-Free Living and The Pain-Free Athlete, I show you how to self-treat all the shoulder muscles. This month I'm going to share with you how to self-treat the infraspinatus muscle.
A Simple Self-Treatment For The Infraspinatus Muscle
As I mentioned, there are 16 muscles that move your shoulder in all the directions you do every day.  It is important to have each of the muscles free of spasms in order to have full range-of-motion. With that said, here is the self-treatment for the infraspinatus muscle.
You can use a slightly used tennis ball to treat the muscle, although it may be too soft to be effective. I've found a new tennis ball may be too hard. I strongly recommend that you never use a lacrosse ball as it is much too hard and could easily bruise the bone. A bone bruise can cause pain for up to a year, so it's certainly something to avoid.
I prefer my Perfect Ball because it is solid in the center and has a layer of softness around the outside.  This softness enables you to work deeply into the muscle without potentially bruising the bone.
The pictures below show you where the muscle is located and where to place the ball.  You can either lean into the ball on a wall, or you can lie on the floor as shown below.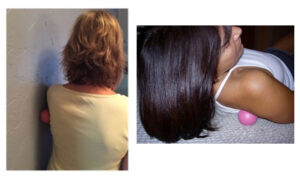 When you locate a "hot spot," where it hurts as you press on the point, just stay there for 30 seconds.
Next, release the pressure for 5 seconds to allow blood to flow into the muscle, and then press into the muscle again.  Continue this until it no longer hurts, and then look for another point. Repeat this on each painful point to enable a full release of tension and relieve pain and stiffness.
Even without working on the other muscles of the shoulder, you'll get considerable relief by treating the infraspinatus muscle.
Have You Listened To My TEDx Talk?
The title is "The Pain Question No One Is Asking."  It points a finger at a HUGE missing piece in our health care, one that affects millions of people.  The topic is controversial, so much so that it almost wasn't approved because it asks a question that certain people don't want brought to light.
You can see it by going to YouTube and putting in "Julie Donnelly, Pain".
Please "like" and "share" it with others so TED will see that this is a subject people want to know more about.  Thanks!
Looking Ahead To October
Next month we will be looking at the #2 most prevalent pain problem in the USA.  Carpal tunnel syndrome (CTS) is debilitating, and incredibly painful.  I know because CTS shut down my therapy practice in 1997.  I'll tell you the short version of that situation and how it was the catalyst for me developing the self-treatments that reversed it for me. I'm happy to say that the self-treatments I developed have also helped hundreds of people around the world eliminate this problem from their lives.
Wishing you well,
Julie Donnelly
www.FlexibleAthlete.com
These statements have not been evaluated by the Food and Drug Administration. This information is not intended to diagnose, treat, cure, or prevent any disease.