Happy St. Patrick's Day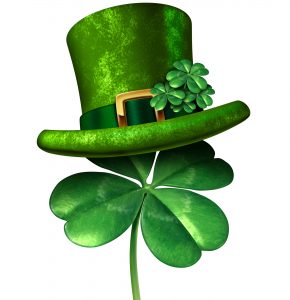 Even if you're not Irish, Happy St. Patrick's Day!  I think it's one of those days that really isn't necessarily an ethnic holiday anymore, it's an "everybody" holiday.
I'm from New York and St. Patty's Day is a HUGE day, with a big parade (I walked in it when I was in high school) and a LOT of partying!  The first recorded St. Patrick's Day parade was held not in Ireland but in New York City in 1762 because there were so many Irish immigrants.
I wasn't too thrilled with aspects of the party part, but it's still fun to wear green and have all the trappings of the day.  My favorites are green cookies and cupcakes (you can tell where my weakness lies – LOL).
Here are 10 fun facts about St. Patrick's Day, Thanks to https://www.proflowers.com/blog/interesting-st-patricks-day-facts
The first St. Patrick's Day celebration in the United States was held in Boston (1737).
Shamrocks are the national flower/emblem of Ireland.
Legend says that each leaf of the clover has a meaning: Hope, Faith, Love and Luck.
Your odds of finding a four-leaf clover are about 1 in 10,000 (I don't know about this one. I must be pretty lucky because when I was a kid, we used to always find them in the grass).
The color of St. Patrick's Day was originally blue.
There are 34.7 million U.S. residents with Irish ancestry. This number is more than seven times the population of Ireland itself
The real St. Patrick wasn't Irish. He was born in Britain around A.D. 390 to an aristocratic Christian family
Patrick never got canonized by a pope, making his saintly status somewhat questionable.
The world's shortest St. Patrick's Day parade is held in an Irish village. It lasts only 100 yards, between the village's two pubs.
1962 marked the first time Chicago dyed their river green for St Patrick's Day.
Your Questions Answered
I have so many people asking me questions about the cause of their aches and pains that I've decided to add a new section to this newsletter – it's a Q&A section where you can send in a question and I'll pick one each month to answer.  I'll explore the most logical cause of the pain and tell you where in my books you can find the self-treatment to eliminate it quickly.
Q:  When I yawn or chew my jaw clicks, close to my ear.  I can feel the bones rubbing together.  I've been told it may be TMJ.  What do you think?
A: I agree that it is most likely TMJ.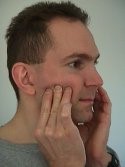 If you press your three middle fingers into your cheeks, right where your back teeth meet, and then clench your teeth, you'll feel the muscle bulge.  The name of the muscle is Masseter and it goes from your cheek bones (above your top back teeth) to your jaw line (below your lower back teeth.
When you chew, you are contracting that muscle, and you lengthen it as you open your mouth wide to put food into your mouth. Chewing gum or clenching your teeth contracts the muscle without the opposite movement of opening your mouth wide.  As a result, it's being repetitively strained, and the body reacts by shortening the muscle fibers. This causes your jaw to shift over to the side of the shortened muscle each time you try to open your mouth.
The clicking you are feeling is the bones rubbing across each other because the muscle is too tight to allow your jaw to open correctly.  This can potentially cause real problems in your jaw, but fortunately it's simple to reverse.
The treatment is shown on page 52-53 in Treat Yourself to Pain Free Living.  Most times you can reverse the problem after just 2-3 self-treatments.
What Causes Pain Between Your Shoulder Blades?
I had to solve a mystery in my office. A client was complaining of a pain between her shoulder blades, and after looking at the usual muscles (Rhomboids) I needed to do some detective work. It's a little confusing, but if you visualize it while you're reading it will help a lot.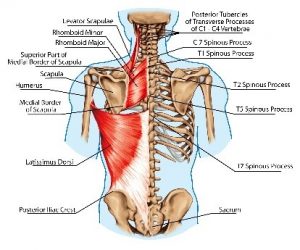 Your rhomboids attach to the medial border of your scapula (between your shoulder blades).  When they contract normally, they pull your shoulder blades in toward your spine.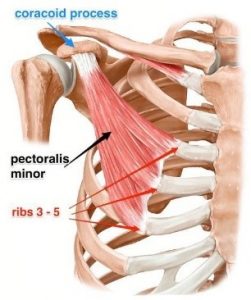 Your pectoralis minor muscle is in your chest, originating on your ribs and inserting into a small part of your shoulder blade (scapula), called the coracoid process.  When the pecs minor contacts normally it pulls on your scapula, moving your shoulder forward and rounding out your back.
Here's what was happening to my client.
When your pecs minor is pulling your scapula forward it's causing your rhomboids to be pulled up toward your head.  This isn't a movement that works well for the rhomboids, so they go into a spasm, or at the very least they are over-stretched, and you feel the pull on the bone.
Relief From Pain Between Your Shoulder Blades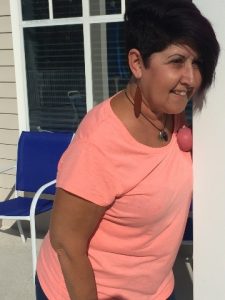 Simply releasing the tight pectoralis minor muscles allowed her shoulder blade to return to its proper location and the strain was taken off her rhomboids.
Looking at the pictures, begin by placing a ball on the front of your chest, just below your shoulder.  Basically, it is where your fingers are when you do the Pledge of Allegiance. Lean into a wall and bend your legs so you move the ball up and down on the muscle.
You can also squeeze the muscle by putting your fingertips into your armpit and your thumb in the same place as the location of the ball as shown in the picture.  Squeeze the muscle and pull down toward the floor as you are squeezing. As a bonus, you'll be stretching the muscle as your releasing the tension in the muscle fibers.
I'm happy to say, treating my client's pectoralis minor took the strain off her rhomboids, and her back pain disappeared!
The most important thing is she also learned how to self-treat her muscles, so the pain won't return.
All my self-treatments are in either Treat Yourself to Pain-Free Living or The Pain-Free Athlete.  If you have nagging aches and pains, you can release the tension and stop pain FAST!
Graphic Credit: Pectoralis Minor muscle graphic thanks to https://www.quora.com/What-is-the-difference-between-a-pectoralis-major-and-a-pectoralis-minor-muscle
___________________________________________________________________________
You really CAN "Treat Yourself to Pain-Free Living!"  As you already know, I've written a book, "Treat Yourself To Pain-Free Living", that shows you how to self-treat muscles from your head to your feet, but maybe you would like to have me help you.
Just because you aren't in Sarasota, Florida, we can still work together very successfully via the computer.  I've worked with people all over the world, and the results are excellent! To request a consult, click here.
___________________________________________________________________________
Wishing you well,
Julie Donnelly 
These statements have not been evaluated by the Food and Drug Administration. This information is not intended to diagnose, treat, cure or prevent any disease. 
About The Author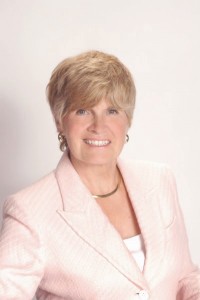 Julie Donnelly is a Deep Muscle Massage Therapist with 31 years of experience specializing in the treatment of chronic joint pain and sports injuries. She has worked extensively with elite athletes and patients who have been unsuccessful at finding relief through the more conventional therapies.