Could A Tight Muscle Cause Your Headaches?
Author: Julie Donnelly, LMT –The Pain Relief Expert
Editor: Dr. Steve Chaney
Happy Thanksgiving!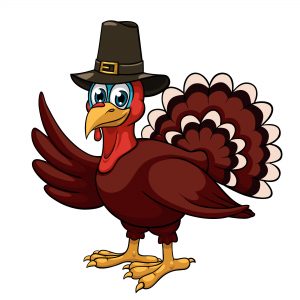 November is one of my favorite months because it's the beginning of the holiday season. There are so many holidays during these next two months, all of them joyful. The colors of the season are vibrant, the smells of delicious foods cooking are embedded in our minds, and spending time with our loved ones warms our hearts.
I come from New York and I love the beautiful changing of the leaves that happens in October, and then the way winter starts to ease into our days. If you come from any of the northern states, you probably have these same memories. Children jumping into huge piles of leaves and finally getting to wear my favorite sweaters and jackets again.
I can still smell the smoke lingering in the air as homes were warmed with fireplaces and cast-iron stoves. Shopping for that special gift for our family and friends, the Salvation Army bell-ringing volunteers, hot apple cider…the memories go on and on.
If you grew up in a warm weather State, you have different memories that bring joy to your heart. It is exciting to have this beautiful season starting again!
2020 is different than years before, challenging us to redesign the holidays. We all have our stories of how we're being impacted by COVID19. I think this is a perfect time to focus our minds on all the things for which we are grateful. Show kindness and appreciation to everyone around us, people need it more than ever before. Count your blessings!
My prayer is that however you may be affected by all that is happening in the USA, that you will have a beautiful, happy, and healthy holiday season.
I Have A TEDx Talk Coming Up
If you have been to the office lately, you probably know I was chosen to do a TEDx talk.  My title is "The Pain Question No One is Asking."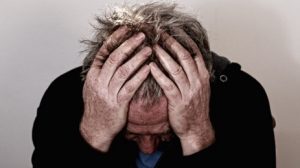 People are suffering, yet a huge cause of pain is constantly overlooked!
The principle thought is, why isn't anyone looking at muscles as a cause of pain during the diagnosis process.  My TEDx talk is only 9 minutes long, short and to the point.
I am most excited that my talk will bring this information to the awareness of people who are searching for answers to the cause of their pain.
It was originally scheduled for May 15th (which was also my birthday, so what a present!), but COVID19 prevented that from happening.  Then it was scheduled for November 20th, and it was still going to be live.  Oh well…COVID19 prevented that too!
So, it was finally decided to have each presenter do a video and submit it to the Team. There is going to be a two-day private presentation for everyone who has bought a ticket to the event. Ticket prices start at $17 for general admission, or $77 to be able to enter the VIP room and meet with each presenter. There are 20 presenters, with topics that range from muscles to health, from animal rights to the environment, and lots of other interesting topics.
If you would be interested in joining us, it will be held on Dec. 5th & 6th, on a Zoom "stage." Just contact me (Phone: (919) 886-1861; Email: info@JulstroMethod.com) and I will make the arrangements for you to receive a ticket to the event.
The Muscle Of The Day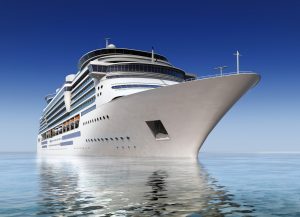 Back when I worked on the cruise ship, which was my first job after getting my massage license in 1989, I studied what I called "the muscle of the day."  Every day I would pick one muscle to really study.  Before the passengers would start coming in, I would list the name, location, action, origin point and insertion point of just one muscle.
I would give what I call "fluff and buff" to the entire body, except for the muscle of the day.  On that muscle I would go slow, a bit deeper, and when I found something that didn't feel like the rest of the muscle, I would ask my clients for feedback.  They would tell me if it hurt or not, and where they were feeling it.
I worked on over 3000 people while I was on the ship (in just one year!) and by the time I got off the ship I was really confident that I knew what "hurt" feels like, and what "doesn't hurt" feels like.  It is the foundation of my therapy practice.
My clients always are interested when I explain why a particular muscle is causing their pain.
With that said, I want to share a "muscle of the month" with you.  Each month I will take one muscle and we will talk about it for a few minutes.  I'm not trying to make you a muscular therapist, just give you a little info that will make sense when you have a painful condition.
Could A Tight Muscle Cause Your Headaches?
This month I want to share the #1 muscle that causes headache pain. When this muscle is tight it can cause headaches that are so severe that they are sometimes called migraines, and some people end up on strong medications to mask the pain.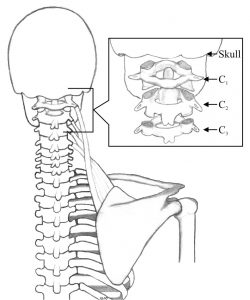 The Levator Scapulae originates on your first four cervical vertebrae and inserts into the inside/top of your shoulder blade.
As you see in the graphic the first two vertebrae have a special setup and it's these two vertebrae that are causing the problem.
C1 is called "the Atlas" because Atlas held up the world.  C1 holds up your skull.
C2 is called "the Axis" because a piece of bone (called the Dens) pokes up through the center of C1. Your skull sits on this point and is the reason you can tip your head forward and back, as well as side to side.
Your brain goes into your spinal cord and the nerves travel through the center of the vertebrae and then go out to innervate every cell in the body from your head to your feet.
The problem is, when the Levator Scapulae gets tight (usually from a repetitive movement, such as holding your shoulders up when you are stressed) it pulls your cervical vertebrae to the side and down.  This causes the opposite side of the bone to press into your spinal cord, right at the base of your brain.
When someone comes into my office and says they get right-sided pain, the odds are the muscle tension is coming from the left side of the body.  As you release the tight muscle fibers, the vertebrae frequently realign by themselves (or you can go to a chiropractor) and the pressure is off your spinal cord.
Relief From Headache Pain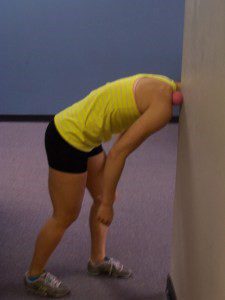 I have already shown you one method for treating this muscle by putting a ball on your shoulder and then leaving forward and pressing into the corner of a wall.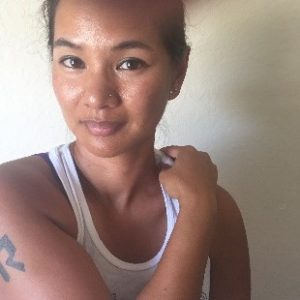 Here is another method. Put your opposite thumb into the hollow in the front of your shoulder, as shown in this picture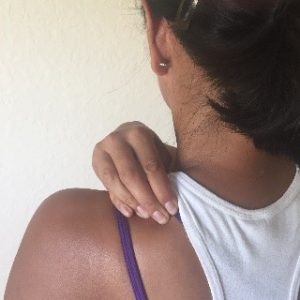 Flip your four fingers over your shoulder. Be sure to go back far enough that you can grip a thick piece of muscle in between your thumb and fingers.
Have your elbow raised so it is horizontal to the floor.  It helps if you put your opposite hand under your elbow to hold it up.
Next, squeeze hard, really gripping the thick muscle.
Bring your elbow down close to your body.  Hold for 15-30 seconds.
At the end, continue squeezing and drop your head in the opposite direction so you are stretching the muscle.
Last Thoughts…
I really love helping my clients get better, so I would appreciate it if you would tell others about my work, and about my books/DVD's etc.  My goal with everyone is to stop the pain that brought to me in the first place, and have you return each month for a tune-up until you are permanently pain free.   Depending on your situation this could take one session or multiple sessions, but I believe we can accomplish this goal.
If you have family or friends who aren't local to Sarasota, please let them know that I do Zoom consultations for the same price as an office visit.  We talk about what is happening and then I can show them how to self-treat. With the both of us on Zoom, I can watch and make sure they are doing the techniques correctly.  It works really well. To date I have worked with people all over the world, including Australia, Switzerland, Canada, Egypt, and lots of other places.
To book a virtual Zoom consultation, just go to https://julstromethod.com/product/pain-relief-training-zoom-us/.
If you have anything you'd like me to discuss, please email me at Julie@JulieDonnelly.com
Wishing you well,
Julie Donnelly 
These statements have not been evaluated by the Food and Drug Administration. This information is not intended to diagnose, treat, cure or prevent any disease.