Natural Relief For Trigger Finger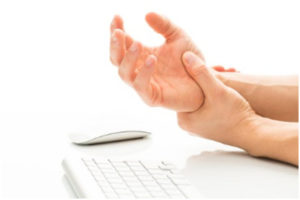 In 1997 I had wrist pain that was so incredibly severe that I couldn't take my left hand from flat on a table and bring my thumb up to two o'clock.  I couldn't pick up a pen, never mind write with it, and the pain was like someone was cutting my wrists with a hot knife.  It closed down my massage therapy business and was forcing me to think what I could do to support myself for the rest of my life!
I was told I had carpal tunnel syndrome (CTS) and that I needed surgery, but I knew that scar tissue was going to fill the space, so that's not something I was willing to do. Also, I knew that cutting the bridge to the carpal tunnel would weaken the thumb muscle, so another reason I didn't want surgery.
It took a LOT of thinking, but I finally figured out how to solve the problem by treating muscles from my neck to my thumb, each of which was putting a strain/pressure onto the median nerve.  The median nerve is the nerve that causes the symptoms of carpal tunnel syndrome (numbness, tingling, pain).
And it worked!  I was completely out of pain and back to work again!  I was thrilled!!!
I ended up doing a test program with 8 people who each had been diagnosed with CTS and it worked for all of them too.  Now I needed to figure out how to bring it to more people.
Ultimately that entire process was put into a video system where you can learn how to treat every muscle.
What Causes Carpal Tunnel Syndrome?
This newsletter is going to focus on just the muscles of the lower arm since they are the primary cause of wrist pain and trigger finger.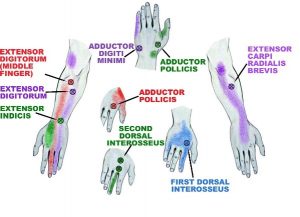 Each of the circles in the figure on the left is the location of a spasm that is causing the referred pain in the area shown in the same color.
Notice that most times the spasm is a distance from the area of pain, and that many of the spasms affect pain in the wrist.
This is a small sampling of the spasms that cause wrist pain and trigger finger.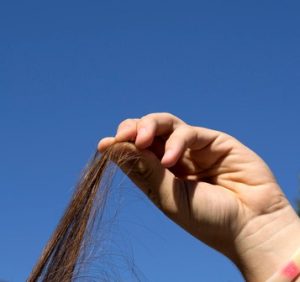 The reason you feel pain at a location that is different from the area of spasm is pretty simple to explain:
If you pull your hair at the end it will hurt where it inserts at your scalp.  But you don't need to massage your scalp, you don't need pain pills, and you definitely don't need brain surgery to stop the pain.
You just need to let go of your hair!
Relief From Carpal Tunnel Pain Without Surgery
This same principle applies with muscles. The pain will refer to the insertion point in the wrist or hand.
The solution is to until the knot in the muscle by applying direct pressure onto the spasm and holding it for about 30 seconds.
For example, if the knot is in the extensor muscles in your arm, you can apply pressure on your extensor muscles by following the picture and pressing deeply into the muscle fibers.
It will hurt, and you'll probably feel it refer all the way to your wrist and hand.
Hold the pressure for at least 30 seconds, longer if you want, and then move your fingers 1-2" in either direction.  You'll keep feeling tender points. Each of them is a spasm that is causing pain in your wrist.
Then turn your arm over and use your fingers to press into the muscles on the underside of your forearm.
Relief For Trigger Finger
These same muscles can cause a condition called Trigger Finger. This is when your finger either gets locked down (curled) or won't close into a fist.
If your finger stays bent and won't open up, you need to treat the underside of your forearm.
If your finger won't bend, you need to treat the top of your forearm as shown above.
Apply pressure to every tender point and hold it for at least 30 seconds before moving to the next point.
The Julstro Method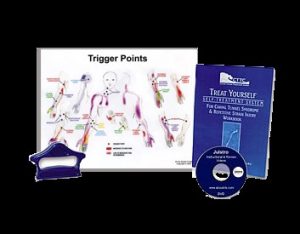 This is the Julstro System that I created after I had resolved my own battle with carpal tunnel syndrome and debilitating wrist pain.
The blue tool, I call it the TotalTX tool, is perfect for working out each of the trigger points from your chest to your thumb.
If you have the symptoms of carpal tunnel syndrome (numb fingers &/or wrist pain), it's worthwhile to treat the muscles before you consider surgery.
Coming Next Month
A lot of people have written in about foot pain and being concerned because with the nice weather approaching in the north, they want to get out running again.
Next month I'll be talking about Plantar Fasciitis, which is arch pain that is actually being caused by the lower legs.
Please let me know if you have something you'd like to add to the schedule for another month, I'll be happy to help you!
Send an email to info@julstromethod.com and use the subject line "Newsletter Questions."
Wishing you well,
Julie Donnelly 
These statements have not been evaluated by the Food and Drug Administration. This information is not intended to diagnose, treat, cure or prevent any disease.