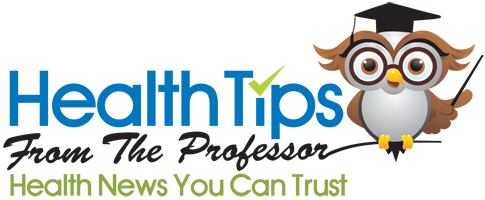 When it comes to health & wellness…there are a lot of myths, rumors and false information out there. What I trust and love about "Health Tips from the Professor" is that you cite the study you are referencing. You validate the study and give the reader the facts both good and bad, and you separate what is fiction & non-fiction. And, if the findings are still out there "unknown" you let us know that too.
Information based on science…not fads or hype… is important to you, and that is important to me! Many times I will read statements from many of the "well-known" Health magazines only to find out that there is no clear evidence of where that statement came from. I've learned not to believe everything I read!!! I appreciate the fact that you will always cite the published study and where it can be found!!! You describe what the study consisted of. You are always clear about all the proper information.
Pamela
I love "Health Tips from the Professor" because you analyze studies and teach in an honest forthright way that we readers have learned to trust. It is also something relating to our health. Your writing is personable and not stuffy. Here is a clue of how important I see your information, when I receive your article, I do not delay in opening it for I know it will relate to something that matters to my health or to others. But most important, Because of your science background / experience I know of no one else who has the expertise to understand and breakdown the truth behind current studies and health related news. Online occasionally I have searched other health news but most are so biased, either because they are selling the product they discuss or work for a company that is selling the product so it is difficult to sort out what is truth on other websites or blogs. Thanks for taking the time to share your knowledge and expertise.
Jean
I whole-heartedly recommend that people go to your blog. First of all, there is so much confusion in this arena that people do not know who to trust. They want the facts without all the bias, and that's hard to find these days. You have the credentials to report on these health topics and you do so in a way that is accurate and balanced. My readers have come to trust what you say and they look forward to every one of your Health Tips.
Your topics are relevant and usually coincide with information that has been in the news, so people are inclined to read them. As a professor, you are a great communicator of complex information. You can write on a serious subject and lighten things up with humor, and you can take a complicated topic and explain it clearly to the average person.
You provide practical information that people can act on. Many people feel helpless about their health problems or fear getting a disease. You provide practical information that empowers us take responsibility for our health and feel more in control by doing something positive that is supported by science and common sense.
Your articles inspire us to think objectively about subjects that will enhance our ability to make better health decisions. There are very few resources like yours, Dr. Chaney, and I thank you from the bottom of my heart for all you do!
Nancy
I like hearing about non-biased nutritional information from credible sources such as you, who can break down complicated, confusing research articles and make them easy to understand. Having a reliable and trustworthy source to explain the ins and outs of what the latest research means and doesn't mean is invaluable.
Ruth
Your information is important to me because I trust the source…your credentials, your experience and, I like the way that you relay your information. For me, you have exactly the right combination of technical/science info and lay-person regular language. You make it easy for everyone to understand the studies that you are breaking down for them. I own a fitness and nutrition business and I crave the latest and greatest information. I LOVE this stuff and can't get enough of it. I do, however, always consider the source of the information and often discount other sources as the nonsense that they are. You always have solid, credible research and solid, credible explanations.
Ginny
Your information is important to me as a person who chooses to maintain and improve health – for myself, my family and those of like-mind with whom I come in contact. As a scientist, you speak factually, and I am comfortable quoting your blogs and referring others to the latest current research which you synthesize and make available in layman's language.
Mary
Your information is of value because keeping my family fit is at the top of my list. I trust your articles because you give full disclosure of your sources along with an explanation which has no hidden meaning or motive.
Valerie
You cut through misinformation and anti-nutrition bias from the media for us to think clearly and see clearly how to manage our own health. You speak with balance and common sense and a bit of humor. You cut through the sacred shibboleths of science and bring it into human terms. You are a rare scientist, one who recognizes that science can try to fix things, but it is nature which keeps us from needing the fix. We can't not listen to you if we are looking for answers we can trust.
Connie
I want to have the latest information on any research studies in that area of interest. However, I also want to be assured that such information is valid and not skewed . I feel assured that your informative newsletters gives me that feeling of validity that I can pass along to others.
Dolores
The information is important to me because it is factual and is backed by scientific proof. I am seeking this kind of information for the health education of myself, my family, and those I can share it with. I am concerned that there is too much "fictional" information out there and you have to get your information from someone you trust. Many people believe everything they read in newspapers and magazines, etc. They don't realize that many times there is a monetary backing to these articles.
As a doctor and in education you have the resources, knowledge, and experience of helping people. I trust your information because I have read your emails over the years and know that you look for the scientific research backing the information you talk about. I know that you do the research to share information that shows the scientific proof not just what someone says for marketing purposes. This is information that can help others make educational choices to improve their health.
Virginia
Life is so busy that there is not always enough time to keep abreast of all the research on nutrition and holistic living. Having one source that synthesizes the information and presents it in a clear, concise and comprehensive manner makes it easier to stay informed and make better choices.
Joanne
The tips you provide are trustworthy resources for information. My main goal is to share responsibly with others. I like that you address current issues/studies/reporting. With so much going around on the internet it can be hard to acquire information that I feel comfortable or confident in sharing. Many times online posts by others are merely spam or biased based on someone trying to promote their product lines – that's not the case with you.
Betty