Do Statins Really Work?
Author: Dr. Stephen Chaney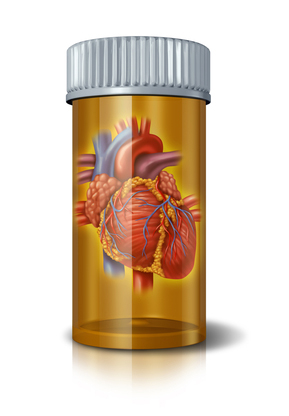 Statins – those ubiquitous drugs used to lower cholesterol levels – are big business!
Over 20 million Americans are currently being treated with statin drugs at a cost that runs into billions of dollars every year. And cardiologists have just recommended that another 20 million Americans consider using cholesterol lowering drugs. 44% of the men and 22% of the women in this country are now being told that they should be using statin drugs.
Some of my cardiologist friends are so convinced that statin drugs prevent death from heart attacks that they have said, only half-joking, that we should just add statins to the water supply.
Are Cholesterol-Lowering Drugs Right For You?
Is the faith of doctors in the power of statin drugs to prevent death from heart disease justified? To answer that question in full we need to look at people who have already survived a heart attack and people who have never had a heart attack separately.
If you've already had a heart attack the evidence is clear cut.
If you have had a heart attack, there is good evidence that statins will reduce your risk of dying from a second heart attack.
In the technical jargon of the scientific world that is referred to as secondary prevention.
But what about those millions of Americans who are being prescribed statin drugs who have never had a heart attack? This is something we scientists refer to as primary prevention.
What Do The Studies Actually Say About Statins And Primary Prevention?
Here the evidence is not clear at all. Two major reports have cast doubt on the assumption that statins actually do prevent heart attacks in people who have not already had a first heart attack.
In the first study, Dr. Kausik Ray and colleagues from Cambridge University in England performed a meta-analyis of 11 clinical studies involving over 65,000 participants (Ray et al, Arch. Int. Med., 170: 1024-1031, 2010). They focused on those participants in the studies who had not previously had a heart attack (primary prevention).
They found that the use of statins over an average of 3.7 years had no statistically significant effect on mortality. In short, statins had no effect on the risk of dying from heart disease or any other cause.
Dr. Sreenivasa Sechasai, one of the doctors involved in the study, said "We didn't find a significant reduction in death despite having such a huge sample size. This is the totality of evidence in primary prevention. So if we can't show a reduction with this data, it is unlikely to be there."
The second study was a Cochrane Systemic Review of statins published January 19th, 2011.  It stated that there was not enough scientific evidence to recommend the use of statins in people with no previous history of heart disease with some caveats (see below).
To help you understand the significance of that conclusion, let me give you a bit of background:
First you need to understand that the Cochrane Collaboration is an independent, non-profit organization that carefully reviews the scientific evidence behind medical treatments and proposed medical treatments.
Cochrane Reviews are considered the "Holy Grail" of evidence-based medicine (ie. medicine based on the best scientific evidence rather than what the pharmaceutical companies would have you believe).
So when a Cochrane Review concludes that there isn't enough evidence to recommend use of statins in patients with no prior history of heart disease that is pretty big news in the medical world.
How Should These Studies Be Interpreted?
Please don't misinterpret what I am saying. The Cochrane Review said that statin drugs are overprescribed, but it did not say that everyone who has not had a heart attack will not benefit from statins. It said that there are a number of risk factors that need to be considered in evaluating individual patients for statin use.
Simply put, that means that it is not as simple as saying that everyone with no previous history of heart disease should not be on statin drugs.
If you are currently taking statin drugs and you have no previous history of heart disease, you may want to discuss with your physician whether the Cochrane Review of statin drugs changes their opinion of whether se of those drugs is still warranted for you.
But the bottom line is that only your physician is trained to take into account all of the factors that increase your risk of heart disease and the best therapeutic approach for reducing your risk of heart attack.
There Is A Double Standard In The Medical Community
More importantly, these studies highlight the difficulty in showing that anything works when you start out with a healthy group of adults with no prior evidence of disease (primary prevention).
And, the way that doctors have responded to primary prevention studies shows that there is a double standard in how primary prevention trials are interpreted in the medical community. For example:
There is no good evidence that statins prevent fatal heart attacks in healthy people.
However, because statins do work in high risk patients, most doctors recommend their use by millions of Americans who have never had a heart attack.
There is also no good evidence that nutrients like vitamin E and omega-3 fatty acids prevent fatal heart attacks in healthy people.
However, there is evidence that both vitamin E and omega-3 fatty acids prevent heart attacks in high risk patients, yet most doctors will tell you they are a waste of money.
It is food for thought.
The Bottom Line
1)    Statin drugs clearly save lives when used by people who have already had a heart attack.
2)    On the other hand, there is no proof that statin drugs prevent heart attacks in people who have not previously had a heart attack
3)    Statin drugs do have side effects. Increased risk of diabetes, liver damage, muscle damage and kidney failure are the best documented, although memory loss has also been reported.
4)    I am not recommending that you stop using statin drugs without consulting your doctor. I am suggesting that you discuss the benefits and risks of statin drug use with your doctor.
5)    Perhaps the most important poin tto come out of these studies is that it almost impossible to prove the benefit of any intervention in a primary prevention trial. If you can't prove that statins work in healthy people, it is not surprising that it is difficult to prove that other interventions work.
6)   Finally, the way that these studies have been interpreted shows that there is a clear double standard in how the medical community evaluates primary intervention trials.
Statin drugs don't show any benefit in a primary prevention setting, yet most doctors still recommend them.
Vitamin E and omega-3 fatty acids don't show any benefit in a primary prevention setting, and most doctors recommend against them.
These statements have not been evaluated by the Food and Drug Administration. This information is not intended to diagnose, treat, cure or prevent any disease.