What Causes Knee Pain? 
Author: Julie Donnelly, LMT –The Pain Relief Expert
Editor: Dr. Steve Chaney 
Closing Out the Old Year And Starting A New One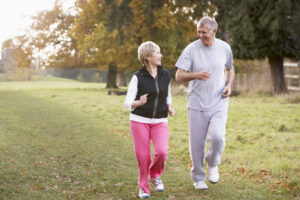 I hope that 2022 was kind to you and your family.  Covid seemed to come and go, with new strains popping up every time we turned around.  What a year!
In December the foods all seemed to be fattening – delicious for sure, but fattening.  Which brings me to the topic of the month.  Maybe you are trying to walk off some of the extra calories you put on last month.
Walking will help burn the calories, but it can also come with aches and pains from muscles getting used repetitively.
This month I want to focus on the pain you feel on the outside of your knee after several days of walking more than your body is used to. It can reduce your walks to a slow hobble at best. And that isn't going to burn off any extra calories.
What Causes Knee Pain?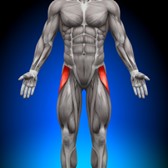 The muscle I want to talk about this month is Tensor Fascia Lata (called TFL for short).
If you make a fist with both hands and then put them on your hips, you are right on top of the TFL.  A small muscle, the TFL attaches to a very long tendon called the iliotibial band (ITB).
This tendon is blamed for pain on the outside of your knee, and while it does insert there so it causes pain when it is tight, it's only tight because of the TFL.
Sounds like you're going in circles but let me explain.
The TFL is responsible for stabilizing your knee when you are standing on one foot.  You don't think about it, but you are on one foot with every step to take!
You can feel the muscle contract by pressing your fingertips into the muscle on each hip, and then move from one leg to the other. You'll feel the muscle tighten.
The repetitive movement causes the muscle to shorten, and it pulls up on the ITB.  This will cause tension to be put on the insertion point at your knee and causes pain. It will also limit range-of-motion when you are walking.
It's interesting that most people don't feel the pain in their hip, but they definitely feel it on the outside of their knee.
Relief From Knee Pain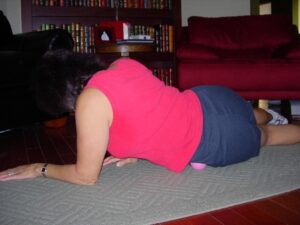 If you are experiencing pain on the outside of your knee while walking, your Tensor Fascia Lata muscle is probably too tight. Here is how to treat your TFL muscle.
Place the ball as shown in this picture.
Move around a little bit until you find the tight spot.  It will be painful.
Only add enough pressure that it "hurts so good," and then stay there for 30 seconds.  Release the pressure. Repeat 2-3 times until it doesn't hurt.
Zoom Consultations 
Almost every month I have been showing you how to do a self-treatment that I've developed.  And, as you know, I've written books that have all the self-treatments, including many that I don't put into this newsletter.
However, your specific situation my require more than just the basics that I show here in the newsletter.
You can still get help!
I've been doing Zoom consultations for several years, and they really work well.
In fact, you get instruction that is specific to your needs, and often I'll demonstrate the movement, and I always make sure you are doing it correctly.
Work directly with me by going to https://julstromethod.com/product/private-consultation/.
A picture is worth 1000 words – and a Zoom consultation is priceless!
Next Month: Bunion Relief 
We'll be looking at how muscles can pull on the bones that protrude at the base of your big toe and become a bunion.
Wishing you and your family a Healthy and Happy New Year!
Julie Donnelly
These statements have not been evaluated by the Food and Drug Administration. This information is not intended to diagnose, treat, cure, or prevent any disease.