Disease Is Not Inevitable
Author: Dr. Stephen Chaney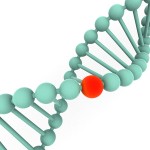 Many people seem to have the attitude that if obesity [or cancer, heart disease or diabetes] runs in their family, it is their destiny. They can't really do anything about it, so why even try?
Most of us in the field of nutrition have felt for years that nothing could be further from the truth. But our belief was based on individual cases, not on solid science. That is no longer the case.
Recent scientific advances have given us solid proof that it is possible to alter our genetic destiny. A family predisposition to diabetes, for example, no longer dooms us to the same fate.
I'm not talking about something like the discredited Blood Type Diet. I'm talking about real science. Let me start by giving you an overview of the latest scientific advances.
Can Diet Alter Your Genetic Destiny?
The answer to this question is YES, and that answer lies in a relatively new scientific specialty called nutrigenomics – the interaction between nutrition and genetics. There are three ways in which nutrition and genetics interact:
1)     Your genetic makeup can influence your nutrient requirements.
The best characterized example of this is methylene tetrahydrofolate reductase (MTHFR) deficiency.  MTHFR deficiency increases the requirement for folic acid and is associated with neural tube defects and other neurological disorders, dementia, colon cancer & leukemia.
In spite of what some blogs and supplement manufacturers would have you believe, supplementation with around 400 IU of folic acid is usually sufficient to overcome the consequences of MTHFR deficiency. 5-methylene tetrahydrofolate (also sold as methyl folate or 5-methyl folate) offers no advantage in absorption, bioavailability or physiological activity (Clinical Pharmacokinetics, 49: 535-548, 2010; American Journal of Clinical Nutrition, 79: 473-478, 2004).
This is just one example. There are hundreds of other genetic variations that influence nutrient requirements – some known and some yet unknown.
2)     A healthy diet can reduce your genetic predisposition for disease.
This perhaps the one that is easiest to understand. For conceptual purposes let us suppose that your genetic makeup were associated with high levels of inflammation. That would predispose you to heart disease, cancer and many other diseases. However, a diet rich in anti-inflammatory nutrients could reduce your risk of those diseases.
This is just a hypothetical example. I'll give some specific examples in the paragraphs below.
3)     Diet can actually alter your genes.
This is perhaps the most interesting scientific advance in recent years. We used to think that genes couldn't be changed. What you inherited was what you got.
Now we know that both DNA and the proteins that coat the DNA can be modified, and those modifications alter how those genes are expressed. More importantly, we now know that those modifications can be inherited.
Perhaps the best characterized chemical modification of both DNA and proteins is something called methylation. Methylation influences gene expression and is, in turn, influenced by nutrients in the diet like folic acid, vitamin B12, vitamin B6, choline and the amino acid methionine.
Again this is just the "tip of the iceberg". We are learning more about how diet can alter our genes every day.
Examples Of How Diet Can Alter Genetic Predisposition
 Heart Disease
Perhaps the most impressive recent study is one that looked at the effect of diet on 20,000 people who had a genetic predisposition to heart disease (PLOS Medicine, October 2011, doi/10.1371/journal.pmed.1001106).
These people all had a genetic variant 9p21 that causes a 2 fold increased risk of heart attack. The study showed that a diet rich in fruits, vegetables and nuts reduced their risk of heart attack to that of the general population.
Another study, the Heart Outcomes Prevention Evaluation (HOPE) study (Diabetes Care, 27: 2767, 2004; Arteriosclerosis, Thrombosis and Vascular Biology, 24: 136, 2008), looked at genetic variations in the haptoglobin gene that influence cardiovascular risk. The haptoglobin 2-2 genotype increases oxidative damage to the arterial wall, which significantly increases the risk of cardiovascular disease.
When the authors of this study looked at the effect of vitamin E, they found that it significantly decreased heart attacks and cardiovascular deaths in people with the haptoglobin 2-2 genotype, but not in people with other haptoglobin geneotypes.
There was also a study called the ISOHEART study (American Journal of Clinical Nutrition, 82: 1260-1268, 2005; American Journal of Clinical Nutrition, 83: 592-600, 2006) that looked at a particular genetic variation in the estrogen receptor which increases inflammation and decreases levels of HDL. As you might expect, this genotype significantly increases cardiovascular risk.
Soy isoflavones significantly decreased inflammation and increased HDL levels in this population group. But they had no    effect on inflammation or HDL levels in people with other genotypes affecting the estrogen reception.
To put this in perspective, these studies are fundamentally different from other studies you have heard about regarding nutritional interventions and heart disease risks. Those studies were looking at the effect of diet or supplementation in the general population.
These studies are looking at the effect of diet or supplementation in people who were genetically predisposed to heart disease. These studies show that genetic predisposition [to heart disease] does not have to be your destiny. You can change the outcome!
Cancer
A healthy diet (characterized by high intakes of vegetables, fruits, whole grain products and low intakes of refined grain products) compared with the standard American diet (characterized by high intakes of refined grain products, desserts, sweets and processed meats) results in a pattern of gene expression that is associated with lower risk of cancer.  (Nutrition Journal, 2013 12:24).
A healthy lifestyle (low fat diet, stress management and exercise) in men with prostate cancer causes downregulation of genes associated with tumor growth (PNAS, 105: 8369-8374).
Sulforaphane, a nutrient found in broccoli, turns on genes that suppress cancer.
Diabetes
A study reported at the 2013 meeting of the European Association for the Study of Diabetes showed that regular exercise activated genes associated with a lower risk of type 2 diabetes
Cellular Stress Response
A diet rich in antioxidant fruits and vegetables activates the cellular stress response genes that protect us from DNA damage, inflammation and reactive oxygen species (BMC Medicine, 2010 8:54).
Resveratrol, a nutrient found in grape skins and red wine, activates genes associated with DNA repair and combating reactive oxygen species while it reduces the activity of genes associated with inflammation, increased blood pressure and cholesterol production.
To put these last three examples (cancer, diabetes and cellular stress response) in perspective, they show that diet and supplementation can alter gene expression – and that those alterations are likely to decrease disease risk.
Obesity
Finally, an animal study suggests that maternal obesity may increase the risk of obesity in the offspring by increasing their taste preference for foods with lots of sugar and fats (Endocrinology, 151: 475-464, 2010).
The Bottom Line:
The science of nutrigenomics tells us that diet and genetics interact in some important ways:
1)     Your genetic makeup can influence your requirement for certain nutrients.
For example, methylene tetrahydrofolate reductase (MTHFR) deficiency increases your requirement for folic acid.
Contrary to what many blogs would have you believe, folic acid is just as effective as 5-methylene tetrahydrofolate (also sold as methyl folate or 5-methyl folate) at correcting MTHFR deficiency.
2)     Healthy diet and lifestyle can overcome genetic predisposition to certain diseases. The best established example at present is for people genetically predisposed to heart disease, but preliminary evidence suggests that the risk of other diseases such as diabetes and cancer are altered by your diet.
3)     Diet can actually alter gene expression – for better or worse depending on your diet. Those alterations not only affect your health, but they may affect your children's health as well.
4)     Nutrigenomics is a young science and many of the individual studies should be considered preliminary. However, the scientific backing is become stronger every day for what many experts in the field have believed for years.
"Your genes do not have to be your destiny. Healthy diet and lifestyle can overcome a genetic predisposition to many diseases."
These statements have not been evaluated by the Food and Drug Administration. This information is not intended to diagnose, treat, cure or prevent any disease.