My Mission Is To Help You Live Pain-Free 
Author: Julie Donnelly, LMT –The Pain Relief Expert
Editor: Dr. Steve Chaney
Happy Valentine's Day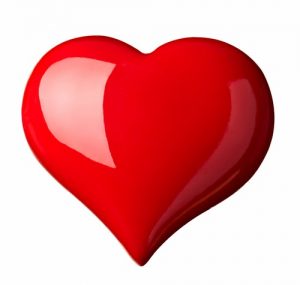 When I lived up north, February was the worst month of the winter – cold, gloomy, and while it's only 28 days long, it seemed endless.  If you're in the cold weather, I hope you stay nice and warm, and that you also find some fun outdoor activities to help this month end quickly.
Here in Florida, this is one of our best months!  No humidity, no rain, no bugs, and lots of sunshine.  We love February!
February is also thought of as a month to show love for another (it should be every month, but we'll leave that alone for now).  Lovers go out to special dinners, sometimes buying expensive gifts or flowers. And many people send sweet cards to friends and family.
But the actual origination of Valentine's Day isn't such a loving story.  The day is named after St. Valentine, a Christian martyr who was executed in ancient Rome on February 14th in the 3rd century A.D. There was also a pagan ritual that had to do with fertility, and where women put their names into an urn for bachelors to pick from. Somehow the two merged over the years and brought St. Valentine's Day into the more romantic sphere.
In any case, it's now a multi billion dollar business that has nothing to do with anything religious but can be fun for loving couples to celebrate.
A Letter From A Reader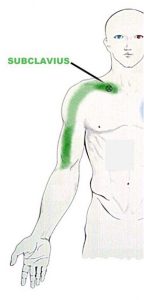 This past week I received an email from a reader of this newsletter.  I've asked people to send me a message if they have any aches or pains that they would like for me to discuss.  This is a topic I've never discussed before, and since it's causing this woman distress, I decided it's the perfect discussion for the month.
Suzie was feeling pain across the front of her shoulder, and she had painful points along the bottom of her clavicle (collarbone).  The subclavius muscle is a short muscle that originates on your 1st rib and inserts into the underside of your clavicle. You can look at it on Wikipedia (https://bit.ly/2KV7lT8) if you'd like to see how tiny it is and where to find it when you are self-treating for pain.
As shown in the graphic above, it is interesting to think that such a small muscle can cause so much pain in the front of your shoulder, and down your biceps to your inner elbow.  Even more interesting is that most people aren't aware of this muscle, so they search other places when they are feeling pain across the front of their shoulder.  As a result, they don't get relief, and they may even turn to pain medications.
A Novel Treatment For Shoulder Pain
If your pain starts in the front of your shoulder and radiates down your bicep, the pain may be caused by your subclavius muscle. If, you are in luck. The treatment for this muscle is so simple you can do it any place and at any time.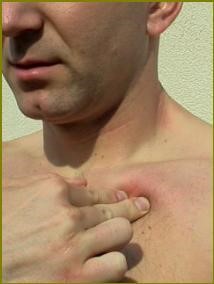 Simply press your fingertips as shown in this picture.  If that exact point isn't painful, move your fingertips a bit to one side or the other.
It will probably feel like a sharp pain, and you may even feel the tiny bump that is caused by the spasm.
Hold the pressure for a minute or so….
Release the pressure (but don't move your finger off the point)…
Press deeply again and hold.
Do this several times until it doesn't hurt to press on the point.
I have been working with people suffering from chronic pain and/or sports injuries since 1989. One thing I have found is that while I can find and successfully treat the muscles causing pain when people come into my office, it's vital for them to continue their treatment at home.
A phenomenon called "muscle memory" will cause the muscle to begin to shorten as soon as we finish our therapy session.  Left untreated the muscle will tighten again in as short as 2-3 days, and you'll have pain again.  However, if you self-treat the muscle you will continue to bring it back to its proper length, and ultimately it will stay, and the pain will be eliminated
Wishing you well,
Julie Donnelly 
These statements have not been evaluated by the Food and Drug Administration. This information is not intended to diagnose, treat, cure or prevent any disease.